Slackline Park - De dans op het touw
Heb je zin om letterlijk de lucht in te gaan? Dan mag je het eerste Slackline Park van Zuid-Tirol in Selva Gardena niet missen.
Slacklinen, een mix van yoga en touwdansen, is de nieuwe innovatieve trendsport. Vooral in de zomermaanden zorgen moedige acrobaten voor verbazing bij menig wandelaar in de parken. Wie denkt dat dit een nieuwe circusact is, vergist zich.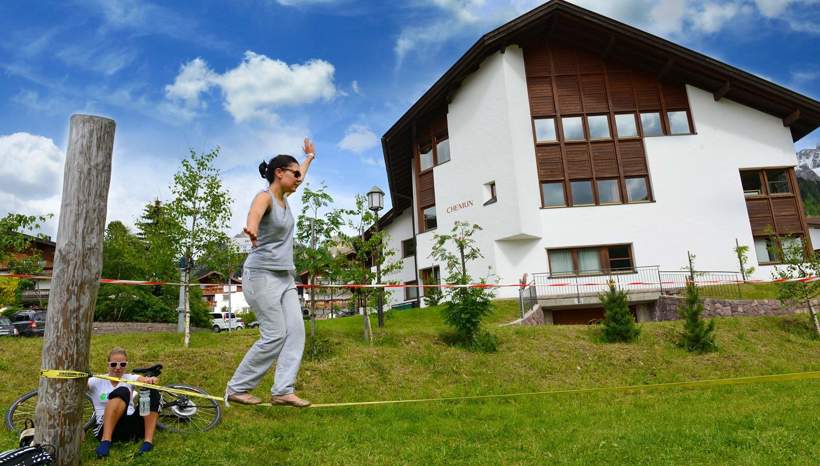 Wat is slacklinen?
De moderne touwdans wordt "slacklinen" of "slingeren" genoemd. De nieuwe trendsport, die ook in dit land steeds meer enthousiasme opwekt, is in de jaren 1980 overgewaaid naar Europa. Het grote verschil met het klassieke koorddansen is absoluut de zogenaamde gibbon, het touw. Terwijl koorddansers balanceren op een stabiel en strak touw, proberen slackliners het op een dynamisch slingerend touw.
Het touw, de "lijn", is losjes gespannen tussen twee vaste punten. De term slackline kan worden verklaard door de vrije Duitse vertaling "lossere lijn": het touw geeft mee door het gewicht van de acrobaat en begint dus te schommelen. Hoe langer het touw, hoe meer rust en balans de slackliner nodig heeft. De sporter probeert de trillingen van het touw te balanceren met zijn lichaam en loopt over het touw met veel concentratie, balans en coördinatie. Slacklinen gebruikt het hele spierstelsel en is daarom een perfecte workout voor het hele lichaam, waarbij stabilisatie en balans worden getraind.
Longlines, d.w.z. touwen van meer dan 100 meter lang, beloven extreme uitdagingen, vooral voor gevorderde slackliners. De durvers onder hen wagen zich zelfs op grote hoogte en bewijzen hun concentratievermogen en vrijheid van hoogtevrees op zogenaamde highlines. De touwen worden gespannen tussen hoge bomen of zelfs bergtoppen. Een andere avontuurlijke manier wordt geboden door waterlijnen om over water te balanceren. Er zijn geen grenzen aan slacklinen en acrobatische trucs zoals 180° of 360° draaien, achterwaartse en voorwaartse salto's, spagaat, handstand, gekruist zitten, "glijden" of "grijpen" (neerhurken en het touw vastgrijpen) bieden gedurfde en extreme uitdagingen.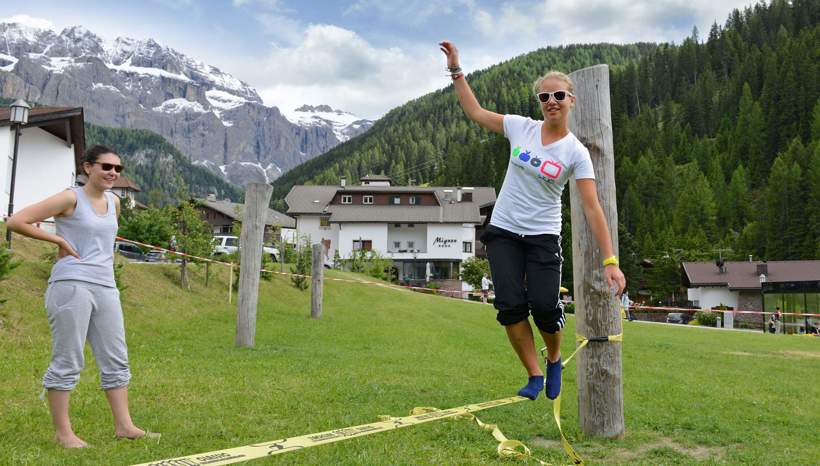 Slackline Park in Val Gardena
Het enthousiasme voor modern touwdansen is nu eindelijk aangewakkerd in Zuid-Tirol en het eerste Slackline Park heeft zijn deuren geopend in Selva di Valgardena. Het biedt zijn moedige gasten in totaal 13 verschillende manieren om de slacklines te bevestigen, variërend van een lijn voor beginners tot speciale lijnen zoals de "Rodeo Line" voor avontuurlijke experts.
Probeer de trucs op de "losse lijn" zelf uit en bezoek het Slackline Park in Selva Gardena. Proef de wereld van de "slappe lijn" tijdens de wekelijkse beginnerslessen. Neem uithoudingsvermogen en een beetje moed mee en ga letterlijk de lucht in. Het Slackline Park in Val Gardena belooft je veel plezier! Laten we slap worden!
Selected accommodations in Wolkenstein in Gröden