Heilig Hartvuur in Zuid-Tirol
Eén keer per jaar, op Heilig Hartzondag, staan de Zuid-Tiroolse bergen in vuur en vlam, als de traditiebewuste Zuid-Tirolers de witrode Tiroolse vlag hijsen, met opgezwollen borstkas van trots "Zu Mantua in Banden" zingen en eeuwige trouw zweren aan het Heilig Hart.
Nee, de Zuid-Tirolers treden niet toe tot de Jezuïetenorde en worden begin juni geen patriotten. Het enige doel van de Heilig-Hartfeesten en Heilig-Hartvuren in het hele land is het herdenken van de vrijheidsstrijder Andreas Hofer en zijn daden en het symbolisch vernieuwen van de Heilig-Hartgelofte die de toen zeer gelovige Tirolers in 1796 voor het eerst aflegden.
In1856 werd het Heilig Hartfeest officieel een vaste datum op de kalender van de katholieke kerk: het werd door paus Pius IX ingevoerd als een gedenkdag voor de hele kerk en vindt plaats op de derde zondag na Pinksteren.
In vroegere eeuwen was de devotie tot het Heilig Hart een uitdrukking van volksvroomheid en verbondenheid met het vaderland: de Tirolers zwoeren voor het eerst eeuwige trouw aan het Heilig Hart door bergvuur in 1796, en de eed werd opnieuw vernieuwd door Andreas Hofer voor de legendarische Slag bij Bergisel.
"Op naar de eed..."
Vandaag de dag gaat het gelukkig niet meer om bloedige conflicten tussen Tirolers, Beieren en Fransen, en hoeft goddelijke hulp niet meer te worden ingeroepen door middel van geloften. Tegenwoordig is het Heilig Hart van Jezus veel meer dan een herdenking van de bewogen geschiedenis van Tirol. Elk jaar op Heilig Hartzaterdag of -zondag worden op de bergen van Tirol vuren in de vorm van harten of kruisen aangestoken om de eenheid van Tirol te symboliseren.
En omdat de Zuid-Tirolers fijnproevers zijn, associëren ze de Heilig Hartvuren met gezellig samenzijn, eten en feestvieren.
Images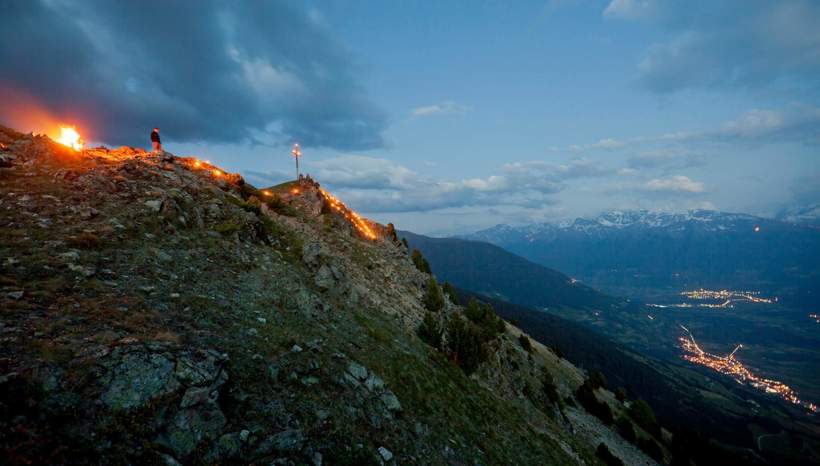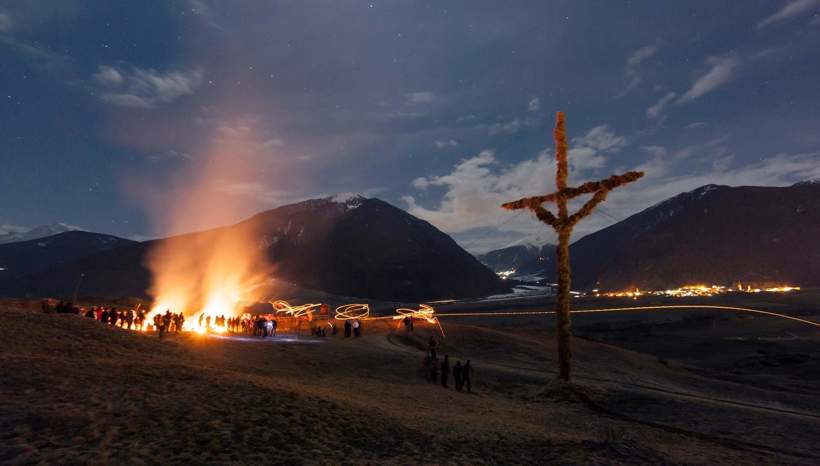 Selected accommodations in South Tyrol