De beste tavernes van Zuid-Tirol
Vakantie in Zuid-Tirol betekent genieten! Dat is inmiddels wel bekend. Vooral tijdens een vakantie op de boerderij kun je een kijkje nemen in de culinaire diversiteit van het land en over de schouders van de boeren meekijken terwijl ze hun eigen voedsel produceren.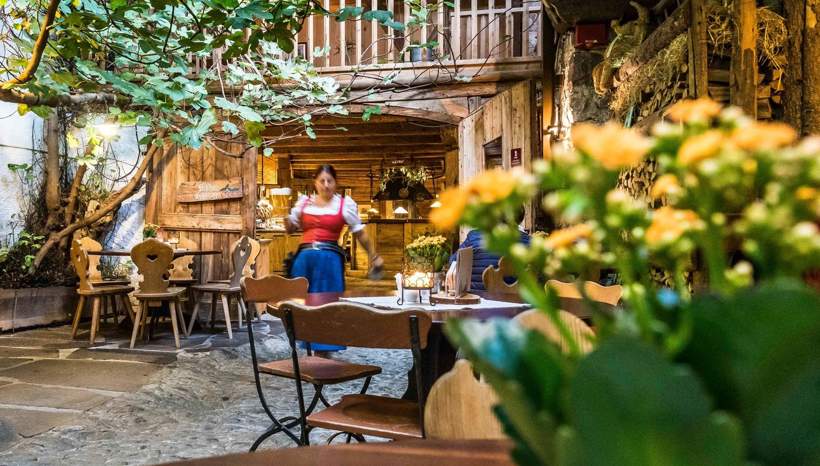 Een goed uitgebalanceerd ontbijt is de beste manier om de dag te beginnen. Veel boerderijen bieden een uitgebreid buffet met alles wat je hartje begeert: zoet beleg van fruit uit eigen tuin, verse eieren, kaas en boter op zelfgebakken brood, plus een glas koude melk. Kan een dag nog beter beginnen?
Zo gesterkt ga je met plezier wandelen of fietsen door de ongerepte natuur van Zuid-Tirol, waar ook weer landelijke tavernes je uitnodigen voor een pauze. Daar serveren boeren en herbergiers traditionele en verfijnde gerechten zoals Schlutzer, Tirtlan of zelfgemaakte worst met zuurkool. Heerlijke desserts zoals gevulde donuts met abrikozenjam, schmarrn en strudel zijn ook verkrijgbaar in veel Buschen en Hofschank etablissementen.
Na een dag vol belevenissen en een stevige "Marende " met spek en kaas wordt de culinaire reis door de landelijke lekkernijen van Zuid-Tirol afgesloten met zelfgestookte sterke drank in de gezellige huiskamer.
Bijzonderheid: Brood bakken
Wil je je dagelijks brood een keer zelf "verdienen"? Dan ben je op de boerderij aan het juiste adres. Want brood bakken is hier niet zomaar een ambacht, maar een traditionele cultuur. Vroeger werd brood slechts om de paar maanden gebakken en werd het brood gedroogd zodat het langer houdbaar was. Er gaat echter niets boven de geur van versgebakken brood, die vervolgens het hele huis doordringt. In de traditionele Zuid-Tiroolse boerderijen leer je wat de beroemde Schüttelbrot, de "Vinschgerl" en de "Pusterer Breatl" hun onvergelijkbare smaak geeft.
Selected accommodations in South Tyrol