Het verwarmt op koude winterdagen en levert waardevolle vitaminen. Je hebt maar een paar ingrediënten nodig om een heerlijke appelpunch te maken: met of zonder alcohol en naar smaak met je favoriete kerstkruiden. Alleen het van nature troebele sap van (Zuid-Tirolse) appels is een must.
Het recept: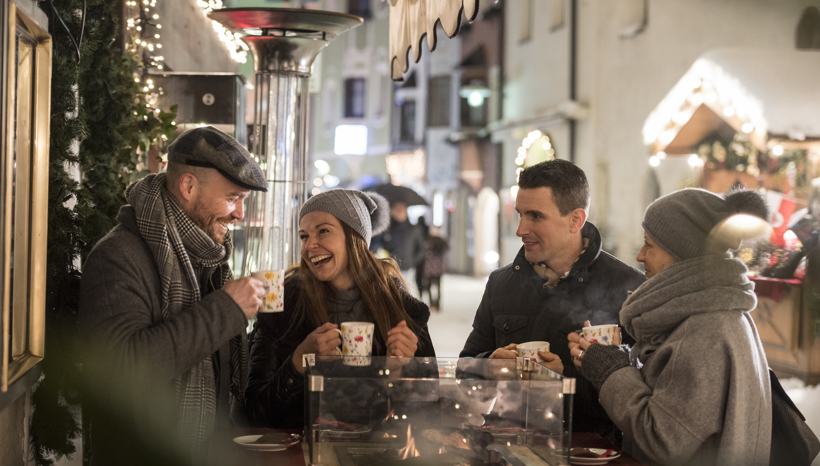 Ingrediënten voor ca. 4 kopjes
1 l biologisch appelsap, natuurlijk troebel
1 kaneelstokje
3 kruidnagels
1 steranijs
1 biologische sinaasappel
2-3 plakjes gember, geschild (naar smaak)
1 appel
Rum of amaretto (naar smaak)
Bereiding:
Giet het appelsap in een pan. Pers de sinaasappel uit en voeg het sap, de kruiden en - indien gewenst - de gember toe. Voor meer sinaasappelsmaak kun je ook wat sinaasappelschil toevoegen.
Breng het mengsel langzaam aan de kook en laat het 5 tot 10 minuten trekken op een uitgeschakelde kookplaat, afhankelijk van de smaak. Verwijder dan de specerijen of zeef ze en giet het hete appelsap in kopjes.
Snijd de verse appel (met schil, zonder klokhuis) in dunne plakjes en voeg 1 tot 2 plakjes toe aan elk kopje. Voeg indien gewenst een scheutje rum of amaretto toe en geniet warm.
Selected accommodations in South Tyrol