Geroosterde aardappelen met spek en ei
Dit stevige, vullende gerecht smaakt het beste in een rustieke hut, op een skitocht of na een inspannende wandeling! Geroosterde aardappelen met spek en ei, of gebakken eieren, zijn een dromerig gerecht voor elke smaak.
Eenmaal gebakken eieren met spek, graag! Dit hoort ongetwijfeld bij een bezoek aan een Zuid-Tiroolse berghut. De lekkere geroosterde aardappelen met spek uit Zuid-Tirol en eieren zijn de perfecte maaltijd na het sporten.
Al met al is dit een eenvoudige maaltijd waarvoor je alleen een beetje handigheid en hoogwaardige en natuurlijke ingrediënten nodig hebt. Dan staat niets het genieten meer in de weg.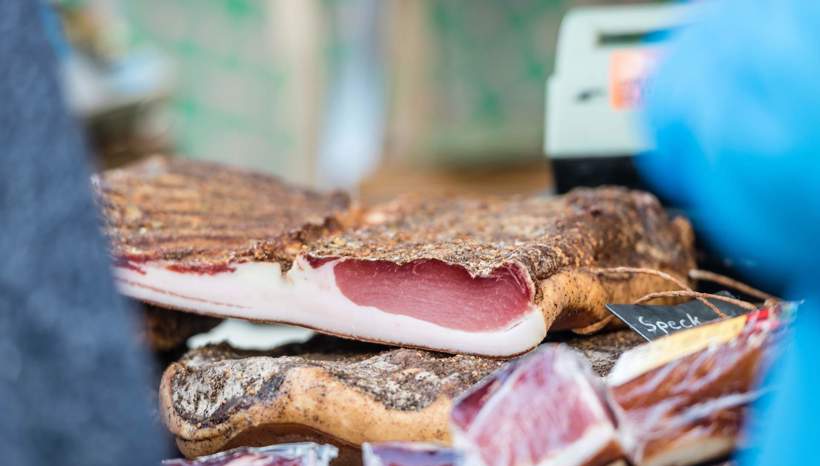 Het recept:
Ingrediënten:
600 g vastkokende aardappelen
100 g boter
4 plakjes spek, ongeveer 3 mm dik
2 eieren
zout
Bereiden:
Kook de gewassen maar ongeschilde aardappelen in gezouten water, schil ze daarna en snijd ze in plakjes. Smelt de helft van de boter in een pan en bak hierin de aardappelschijfjes. Doe ze over op een bord en houd ze warm.
Smelt de rest van de boter in dezelfde pan, voeg het spek toe en bak ook even mee. Bak in een andere pan de eieren als spiegeleieren. Schik het spek en de eieren op de geroosterde aardappelen en serveer terwijl ze nog warm zijn!
Selected accommodations in South Tyrol