Gerstesoep uit Zuid-Tirol
Op koele herfstavonden, tijdens het Törggelen of na een heerlijke dag op de skipiste is er niets lekkerder dan een heerlijke, warme gerstesoep.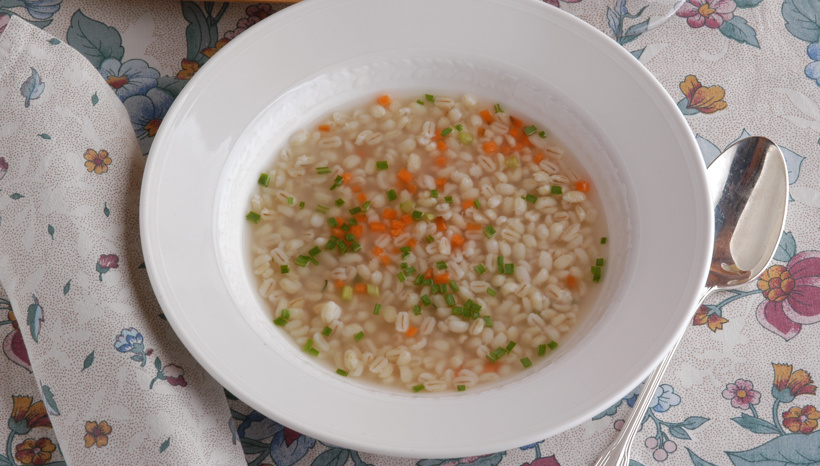 Iedereen die in Zuid-Tirol op vakantie is, moet de traditionele soep minstens één keer proberen! Gerstesoep of "Gerstsuppe" is een originele boerenmaaltijd met een stevige smaak. De ingrediënten van deze typische specialiteit uit Zuid-Tirol zijn eenvoudig, omdat de bergboeren vroeger vaak in bescheiden omstandigheden leefden, maar het levert desondanks een bijzonder lekker gerecht op.
Gerstensoep uit Zuid-Tirol wordt geserveerd in rustieke berghutten en uitnodigende herbergen op het platteland, maar ook in elegante hotels. In de typische Törggele restaurants is gerstesoep een onmisbaar onderdeel van het menu. In sommige vakantieregio's, zoals in Pustertal, wordt de soep geserveerd met een tirtl (gebakken knoedel gevuld met een kwarkmengsel, spinazie of zuurkool).
Ingrediënten zoals groenten, granen en vlees maken gerstesoep tot een zeer substantiële en vullende maaltijd. Niet in de laatste plaats hierdoor en door het verwarmende effect is de soep vandaag de dag nog steeds erg populair bij boeren en wandelaars.
Recept
Ingrediënten voor 4 personen:
1 ui, in blokjes gesneden
30 g wortelen, selderij, bleekselderij en aardappelen elk, in blokjes gesneden
100 g gerookt vlees, bij voorkeur varkensvlees
100 g gerst (parelgort), 2 uur van tevoren weken in water
2 l vleessoep of groentebouillon
Boter om te bakken
1 laurierblad
Bereiden:
Fruit de ui in de boter goudbruin, voeg de groenten en gerst toe en bak nog even. Giet dan de soep erbij en voeg het laurierblaadje toe. Laat nu een uur koken.
Voeg de blokjes rookvlees en aardappelen toe en laat nog 20 minuten koken. Breng op smaak met zout en peper en serveer met bieslook.
Selected accommodations in South Tyrol