Kaiserschmarrn
Bij dit gerecht is de naam majestueus, het plezier hemels en de bereiding eenvoudig.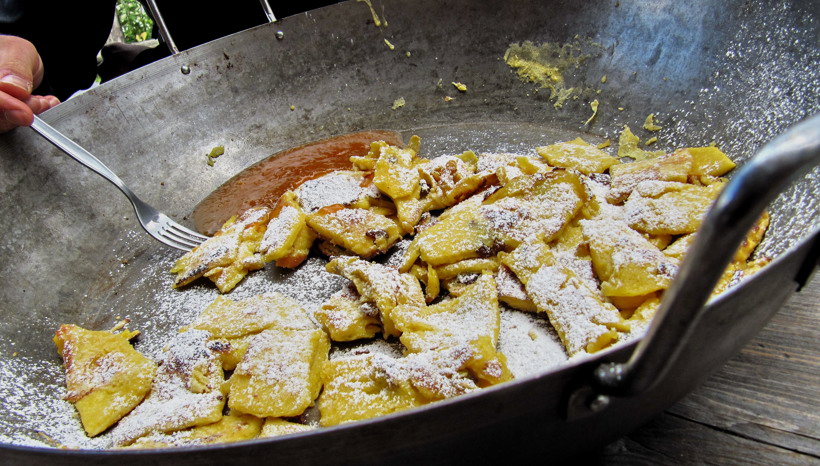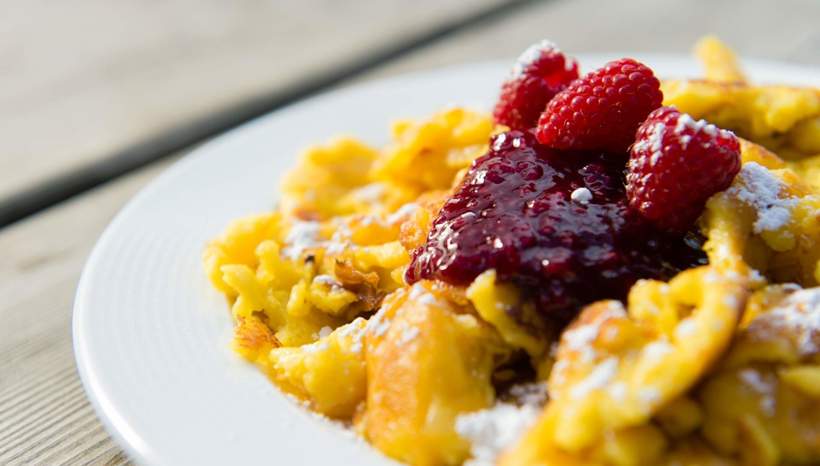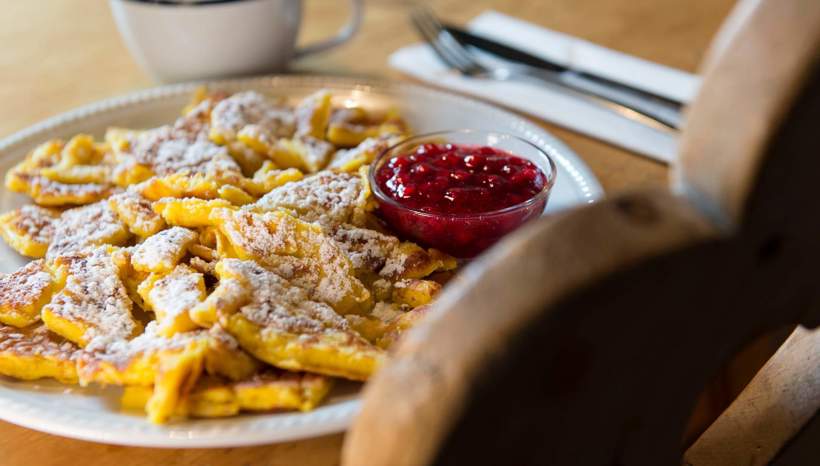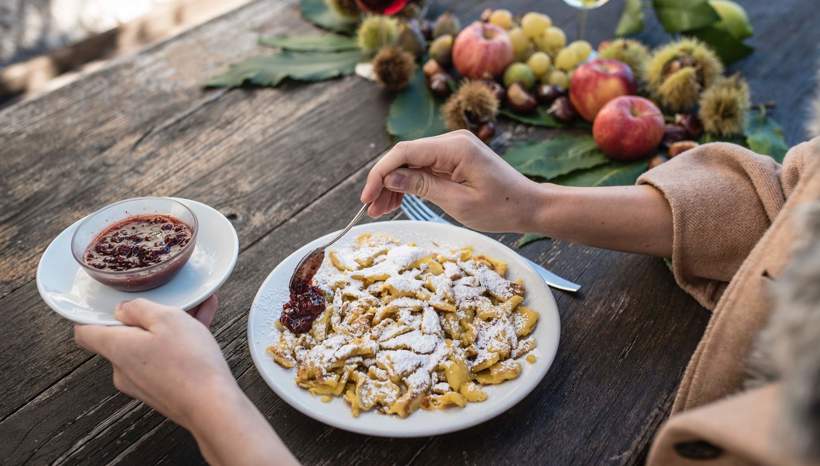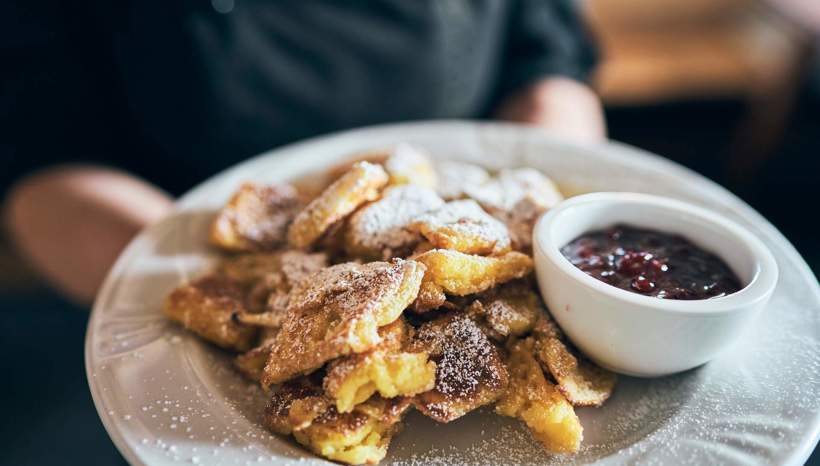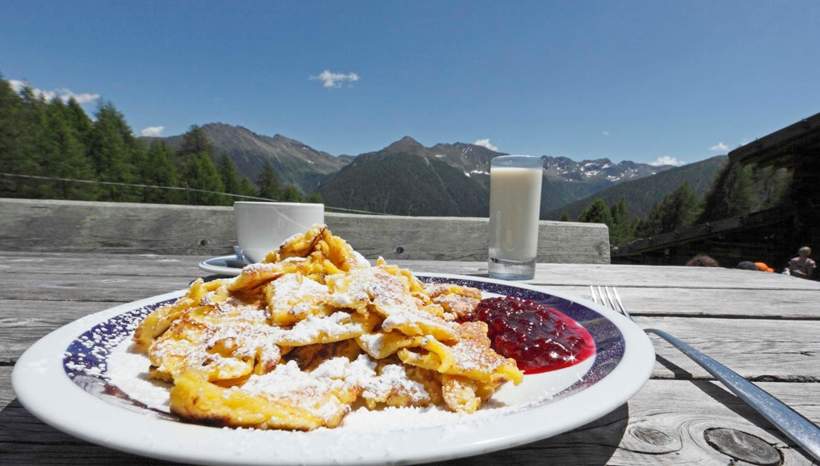 Een eenvoudig deeg van melk, eieren, bloem en een snufje zout wordt samen in de pan geroerd tot een van die gerechten die - bijna - iedereen lekker vindt. Een flinke portie poedersuiker aan het eind mag niet ontbreken. Of het nu een uitgebreid dessert of een zoet hoofdgerecht is - Kaiserschmarrn (of Kaiserschmarren) smaakt vooral goed na een mooie wandeling of fietstocht.
In hutten en restaurants in Zuid-Tirol wordt Kaiserschmarrn geserveerd met Grantenmarmelade (veenbessenjam). In Wenen wordt het meestal geserveerd met Zwetschgenröster (zeer dikke pruimencompote) of appelmoes. Voor uitgebreidere versies wordt de Schmarrn gekarameliseerd in de oven. Er zijn verschillende meningen over de vraag of sultanarozijnen wel of niet in het deeg horen.
Een van de legendes over de oorsprong van Kaiserschmarrn gaat als volgt: op een avond zou keizer Frans Jozef van Oostenrijkzijn kok hebben gevraagd om hem in zijn werkkamer een palatschinke (dunne pannenkoek, crêpe) te serveren. De kok zat midden in de voorbereiding van het diner voor de rest van de keizerlijke familie en vergat de pannenkoek in de pan. Toen hij werd omgedraaid, kreeg hij naast de verbrande delen ook een barst. Omdat de kok geen tijd had om een tweede pannenkoek te maken, scheurde hij de verbrande pannenkoek in stukken en bedekte de verbrande delen met poedersuiker. De jam voor de vulling legde hij ernaast op het bord. Het zoete gerecht smaakte de keizer zo goed dat het zijn lievelingsgerecht werd.
Recept voor 3-4 personen
Ingrediënten:
50 g sultanarozijnen
100 g bloem (type 00)
50 g suiker
175 ml volle melk
30 ml rum
4 eieren (maat M)
60 g boter
1 snufje zout
Mark van een vanillestokje (of 1 pakje bourbon vanillesuiker)
Poedersuiker om te strooien
Veenbessenjam (of andere vruchtenjam)
Bereiding:
Week eerst de sultana's in rum. Scheid de eierdooiers van de eiwitten en doe ze in een kom met de vanillepulp. Roer dan afwisselend de melk en de bloem erdoor met een garde of klopper tot een glad deeg zonder klontjes. Klop de eiwitten met het snufje zout en de suiker stijf en meng ze dan voorzichtig met de garde lepel voor lepel door het deeg. Meng nu de goed uitgeknepen sultana's door het beslag.
Smelt de boter in een pan met een diameter van ongeveer 25 cm. Als de boter heet is, giet je er een derde van het beslag in. Bak eerst aan één kant goudbruin en draai dan om. Als het deeg ook aan de tweede kant goudbruin is, scheur je het met twee vorken of spatels in hapklare stukken en bak je het nog een beetje verder indien nodig. Ga nog twee keer op dezelfde manier door met het resterende beslag, en vergeet niet om elke keer voldoende boter in de pan te doen voor het beslag.
Schik de afgewerkte Kaiserschmarrn op een bord, bestrooi met poedersuiker en serveer snel met cranberryjam.
Selected accommodations in South Tyrol