Recepten van knoedels uit Zuid-Tirol
Of het nu met spek, kaas of andere smaakingrediënten is - knoedels zijn en blijven een van de lekkerste traditionele gerechten uit Zuid-Tirol, die ook in het dagelijks leven altijd op tafel staan en door jong en oud worden gegeten.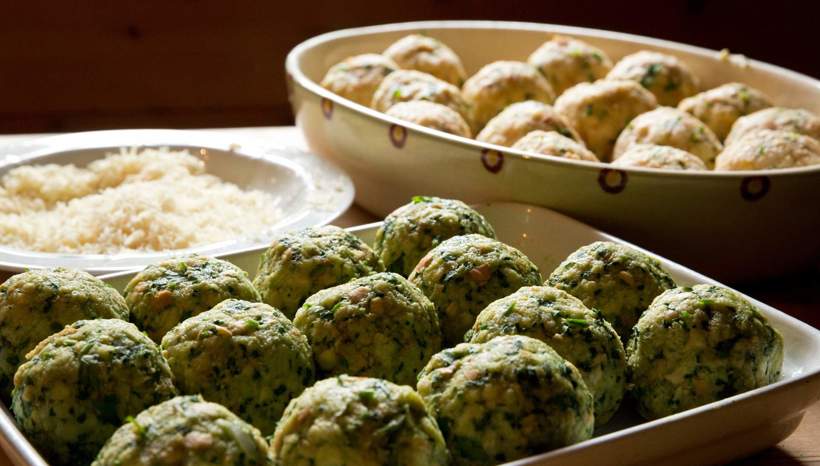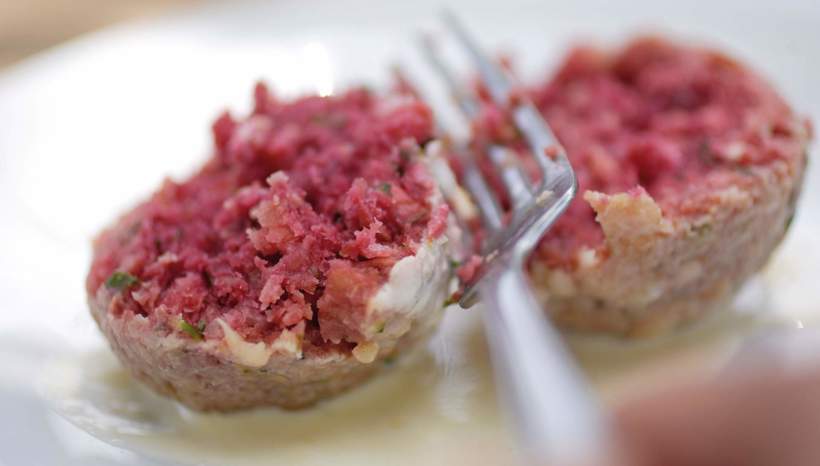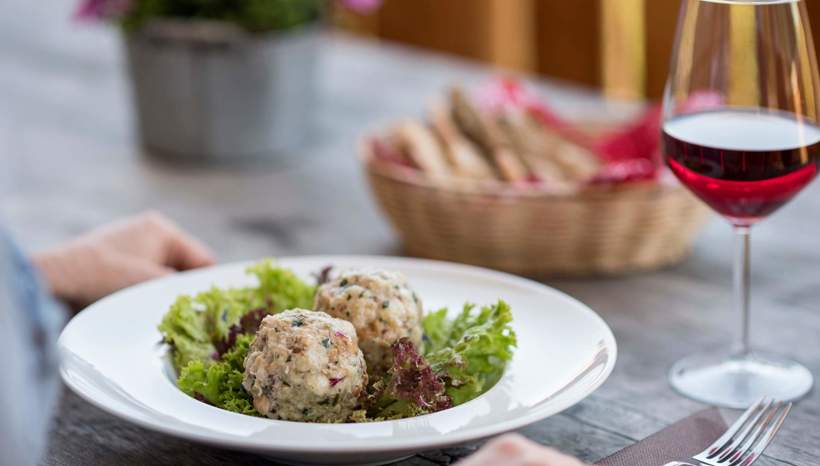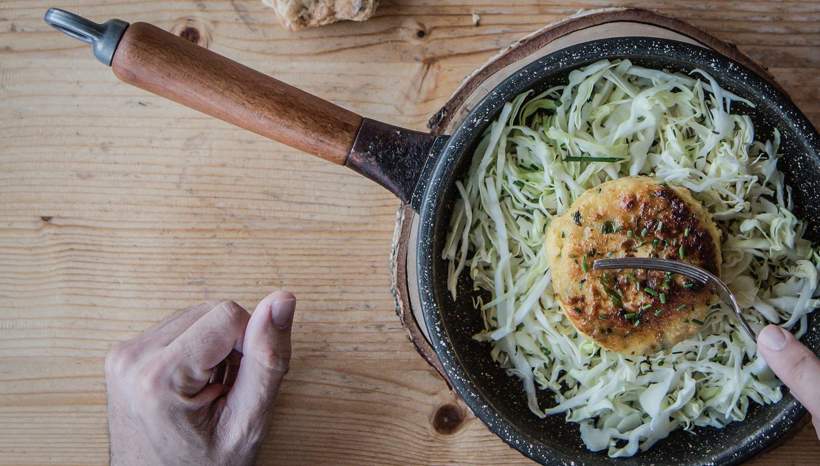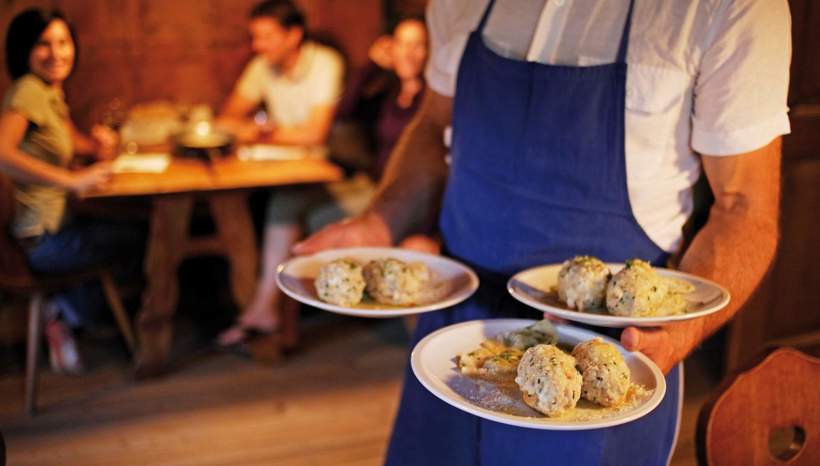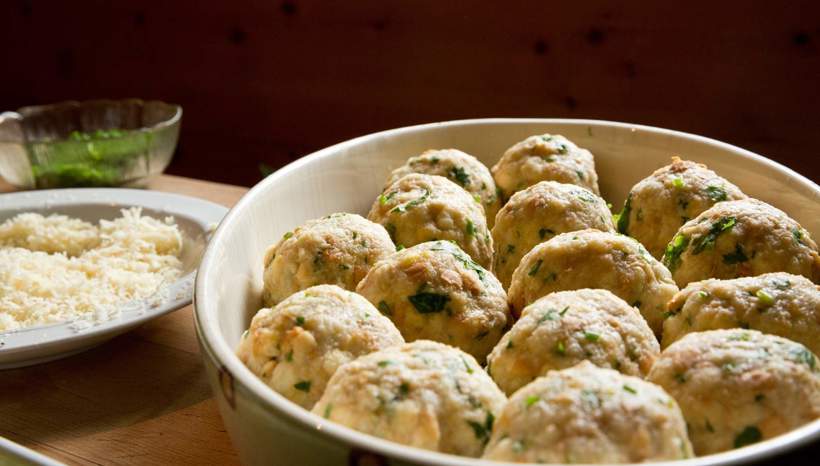 Knoedels hebben een lange traditie in Zuid-Tirol. De verschillende knoedelgerechten zijn favoriet bij jong en oud, en talloze kookboeken bevatten smakelijke knoedelspecialiteiten om nog eens te proberen.
Iedereen die ooit in Zuid-Tirol op vakantie is geweest, weet dat knoedels een van de populairste gerechten zijn en in talloze variaties kunnen worden bereid. Of het nu met spinazie, kaas, spek, lever, rode biet of champignons is - de variatie aan knoedels uit Zuid-Tirol is buitengewoon groot. Heb je ze liever in vleessoep of op zichzelf? In combinatie met goulash of met koolsla? Wist je dat knoedels nooit met een mes worden gesneden, maar alleen met een lepel of vork?
Hier presenteren we een aantal smakelijke knoedelgerechten die je thuis voor de hele familie of vrienden kunt klaarmaken!
Kaasknoedels met grijze kaas en prei
Ingrediënten voor 4 personen:
100 g knoedelbrood
100 g grijze kaas, geraspt
een klein bosje bieslook
1 kleine groente ui
2 eieren
een beetje water
zout, gemalen peper
boter, parmezaan en bieslook om te serveren
1 prei
15 kerstomaatjes
zout, peper
een beetje boter en olijfolie
Bereiding:
Meng voor de dumplings alle droge ingrediënten in een kom. Klop vervolgens de eieren los met een beetje water en giet dit erover. Meng voorzichtig met je handen (niet kneden) en laat ongeveer 15 minuten rusten.
Vorm nu met natte handen knoedels van elke grootte, leg ze in kokend gezouten water en laat ze 5 tot 10 minuten zachtjes koken.
Snijd de prei in de lengte in en snijd in 1 cm brede repen, snijd de cherrytomaatjes in vieren. Fruit de prei in boter en olijfolie - hij mag niet bruin worden, voeg zout en peper toe. Voeg na 2 tot 3 minuten de tomaten toe en bak nog even mee.
Schik de knoedels op de prei, bestrooi met Parmezaan en smeer in met hete boter. Strooi er wat bieslook over als garnering.
Zwarte polenta knoedels
Ingrediënten:
100 g wit spek of pancetta, in blokjes gesneden.
80 g prei, in blokjes gesneden
150 g knoedelbrood
80 g zwart polentameel (boekweitmeel)
50 g boter
2 eieren
70 ml water
Gehakte peterselie, wat knoflook, peper, zout
Bereiden:
Klop de eieren en het water los. Bak het spek in de boter en voeg wat gehakte knoflook toe. Meng nu alle ingrediënten goed - behalve de eieren - voeg dan de eieren toe en meng goed.
Laat het mengsel 30 minuten rusten, vorm er dan knoedels van gelijke grootte van en leg ze ongeveer 10 minuten in kokend water met zout. De knoedels worden het best geserveerd in een stevige vleessoep.
Knoedels van spek
Ingrediënten voor 4 personen:
2 oude broodjes
1,5 glas melk
100 g spek uit Zuid-Tirol
2 eieren
1/2 ui
2 el bloem
2 el olie
boter en peterselie
zout en peper
Bereiden:
Snijd het brood in blokjes, klop de melk met de eieren en giet over de broodblokjes. Snijd het spek in kleine blokjes en duw de (witte) vetblokjes opzij.
Bak de gesnipperde ui met de vetblokjes in olie goudbruin, laat afkoelen en leg op het brood. Voeg het overgebleven spek, een handvol gehakte peterselie, bloem, zout en peper toe en kneed goed met je handen. Laat even rusten, vorm dan met natte handen knoedels, leg ze in kokend gezouten water en laat ze in ongeveer 20 minuten langzaam gaar worden.
Serveer met koolsla of in een heldere soep.
Spinazie knoedels
Ingrediënten voor 8 dumplings:
200 g spinazie (vers of diepvries).
150 g oudbakken broodjes of knoedelbrood
60 g uien
50 g melk
30 g parmezaan
25 g bloem
20 g boter
2 middelgrote eieren
Knoflook
zout
1 snuifje nootmuskaat, peper
Toevoegen bij het opdienen:
70 g boter
30 g Parmezaanse kaas
Bieslook
Bereiden:
Kook de gewassen spinazie gaar, zeef en knijp goed uit. Fruit in een pan de gesnipperde uien en het teentje knoflook in gesmolten boter. Voeg de spinazie toe en breng op smaak met zout, peper en nootmuskaat. Laat 5 minuten sudderen en laat dan afkoelen.
Pureer de koude spinazie met de eieren. Meng in een kom de broodblokjes, het spinazie-eimengsel, de melk, de Parmezaanse kaas, de bloem en een beetje zout tot een homogeen mengsel. Laat 15 minuten rusten.
Om het deeg te vormen maak je je handen vochtig en vorm je bolletjes ter grootte van mandarijntjes. Laat de knoedels 20-30 minuten rusten op een met bloem bestoven plaat of op bakpapier voordat je ze gaat koken. Kook ze vervolgens 12-15 minuten in gezouten water. Besprenkel voor het opdienen met gesmolten boter en garneer met bieslook en parmezaan.
Selected accommodations in South Tyrol