Schüttelbrot uit Zuid-Tirol
Hard maar hartig! Knapperige herrieschoppers zijn het, de Zuid-Tiroler Schüttelbrot, die je bij de Marende geserveerd krijgt met spek, Kaminwurzen en kaas.
Het originele Schüttelbrot is een hard, knapperig platbrood dat zo typisch is voor Zuid-Tirol. Al eeuwenlang wordt Schüttelbrot gemaakt van roggemeel, water, gist en zout. De toevoeging van karwij, venkel, anijs, koriander en fenegriek geeft het zijn unieke pittige smaak. De ingrediënten worden gekneed tot een deeg en dan geschud - vandaar de naam - om de typische dunne pitavorm te vormen.
In de oven gebakken tot het knapperig is, behoudt het zijn vorm en wordt het hard en enigszins taai, waardoor het langer houdbaar is. Dit is waarschijnlijk de reden waarom het altijd al op boerderijen in Zuid-Tirol werd bereid.
Schüttelbrot uit Zuid-Tirol smaakt het best met spek of kaas, radijs en mierikswortel. Modern en bijna een beetje extravagant is de toevoeging van zalm of kruidenboter. Voeg er een glas Zuid-Tiroler wijn aan toe en de smaakbeleving is perfect.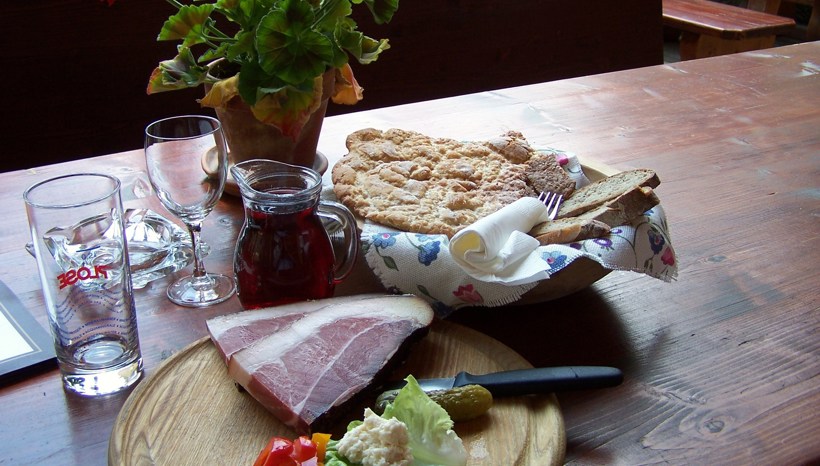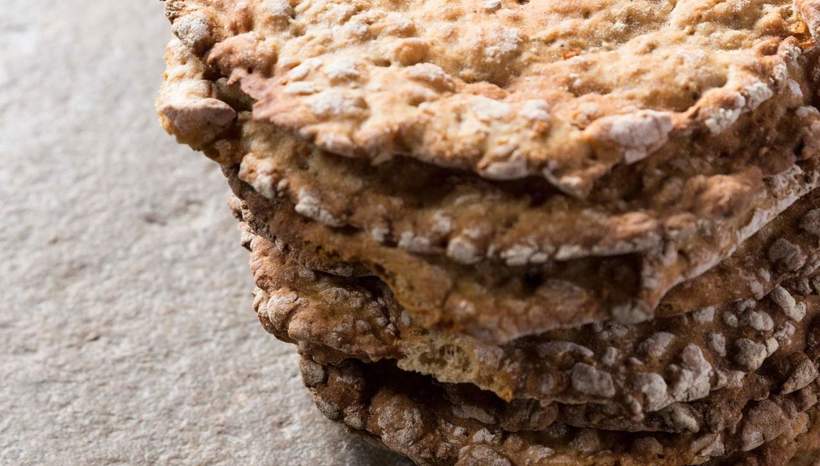 Het recept voor thuis
Ingrediënten voor 20 stuks:
250 g tarwebloem
250 g roggemeel
100 g roggemeel, medium fijn
1 blokje verse gist
1 theelepel suiker
1/4 theelepel zout
1/8 l karnemelk
4 el zonnebloemolie
1 ei
1/2 theelepel komijn, koriander, fenegriek, anijs en venkelzaad elk
Meel voor het werkvlak
Zemelen voor de bakplaat
Bereiden:
Meng het meel en de gort in een kom en maak een kuiltje in het midden. Verkruimel de gist in 1/4 l lauw water, voeg de suiker toe en roer om op te lossen. Roer de gistmelk door het meelputje en voeg het zout toe aan de rand van het meel. Voeg de karnemelk, olie, ei en kruiden toe en kneed alles tot een soepel deeg. Bedek het deel vervolgens met bloem en laat het op een warme plek ongeveer 50 minuten rijzen.
Kneed het deeg stevig door en verdeel het in 20 porties. Schud het deeg met de hand tot platte pasteitjes van ongeveer 5 mm dik. Leg de deeglapjes op bakplaten die bestrooid zijn met zemelen. Prik een paar keer met een vork in het deeg en laat de pasteitjes afgedekt ongeveer 20 minuten rusten.
Bak de pasteitjes ongeveer 10 minuten in de oven (210 °C). Na het bakken op een luchtige plaats bewaren zodat de flatbreads drogen.
Selected accommodations in South Tyrol