Strauben
Strauben zijn ongetwijfeld een van de beste en bekendste desserts uit Zuid-Tirol.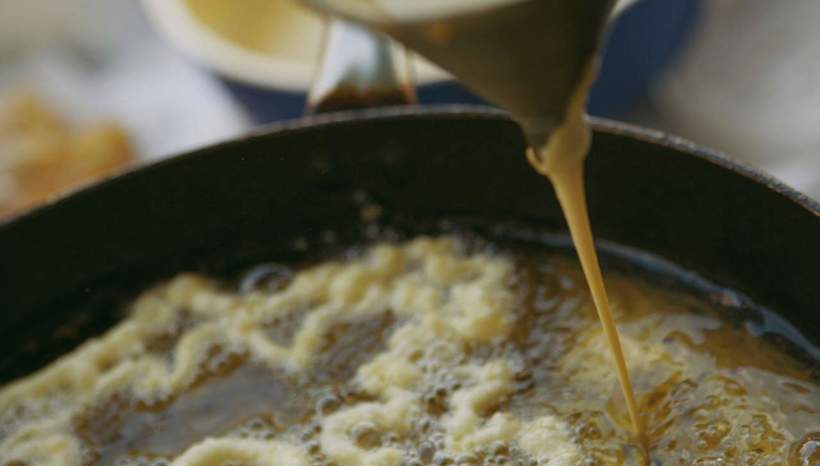 Dit smakelijke en typisch Zuid-Tiroolse dessert ontbreekt op geen enkel kerkfeest en wordt ook op dorpsfeesten het hele jaar door in gietijzeren pannen voor de wachtende fijnproevers bereid.
Het bakken van de ronde of slakvormige lekkernijen is een kunst die veel boerinnen en huisvrouwen nog steeds perfect beheersen. Het deeg, gemaakt van melk, bloem en eieren, wordt door een speciale trechter in de hete olie gegoten en goudbruin gebakken. De bereiding van de Strauben is een kunst op zich, die ook voor het oog van de fijnproever een echt hoogtepunt is.
Het recept voor thuis:
Ingrediënten:
200 g bloem
250 ml melk
20 g gesmolten boter
3 eieren (gescheiden)
20 ml schnaps
1 snufje zout
Olie om te bakken
Bereiden:
Meng de bloem met de melk tot een glad deeg, roer de gesmolten boter, de schnaps en de eidooier erdoor. Klop de eiwitten met het zout stijf en vouw ze door het deeg tot een dik mengsel.
Giet het beslag door de trechter in een cirkel of spiraal in hete olie en bak aan beide kanten tot de trossen goudbruin zijn. Haal ze er voorzichtig uit, laat ze uitlekken op keukenpapier en serveer ze met een beetje poedersuiker en (bij voorkeur zelfgemaakte) cranberryjam.
Selected accommodations in South Tyrol