Dit smakelijke vruchtenbrood is een vast onderdeel van de advent in Zuid-Tirol. Het wordt meestal begin december gebakken, zodat het een tijdje kan rijpen en tegen Kerstmis zijn volle smaak kan ontwikkelen. Gedroogde vijgen, sultana's, noten en typische kerstkruiden staan bovenaan de lange lijst van ingrediënten in de tenten. Het is aan elke kerstbakker om te beslissen of er gekonfijt fruit aan het deeg wordt toegevoegd.
Het recept: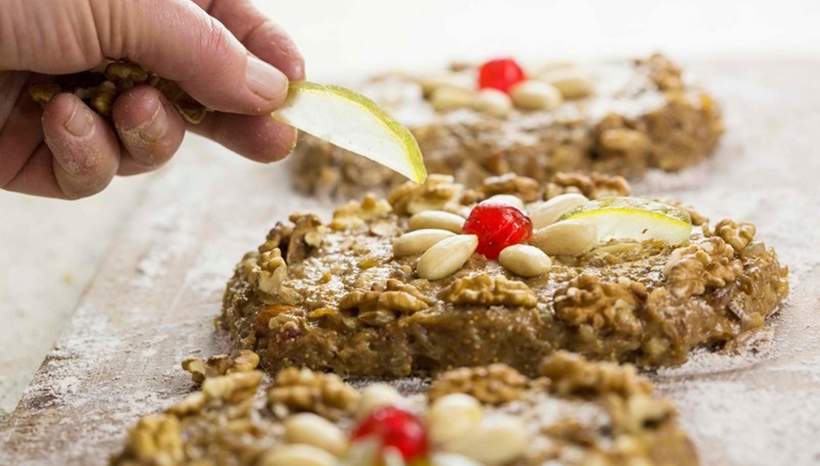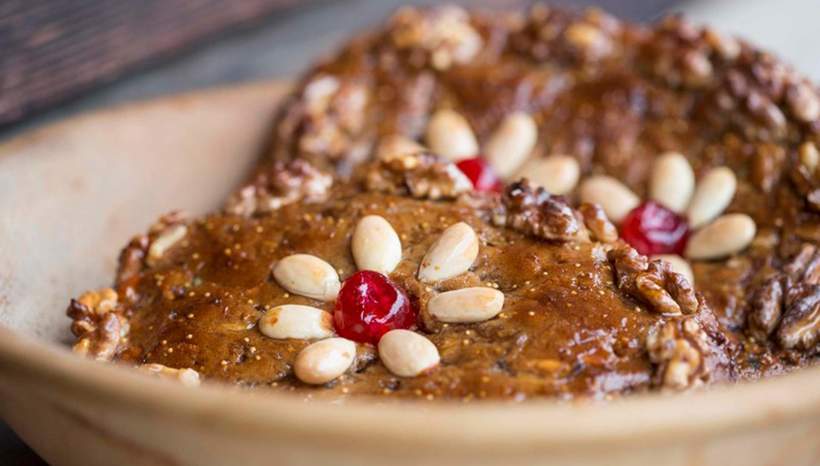 Ingrediënten voor ongeveer 4 grote tenten
Voor het deeg:
200 ml lauw water
20 g gist
2 el suiker
150 g tarwebloem
100 g roggemeel
15 g zout
1 el olie
1 theelepel anijs en 1 theelepel komijn
Extra:
500 g gedroogde vijgen
250 g sultanarozijnen
120 g rozijnen
120 g noten naar keuze
120 g pignoli
120 g gepelde amandelen
(50 g gekonfijte citroenschil en gekonfijte sinaasappelschil)
50 ml witte wijn
3 el rum
70 g honing
½ theelepel geraspte citroen- en sinaasappelschil elk
½ theelepel kaneel
1 theelepel kruidnagelpoeder, new spice en nootmuskaat elk
Om te versieren en te bedekken:
Noten, amandelen en gekonfijte kersen
Honing of gepureerde suiker
Bereiding:
Je kunt het gedroogde fruit en de noten het beste een dag van tevoren klaarmaken en een nacht marineren - of minstens 1 uur van tevoren. Hak hiervoor de vijgen fijn, hak de noten grof en meng met de sultanarozijnen, pignoli, amandelen, gekonfijt fruit, witte wijn, rum en honing.
Meng voor het deeg het water, de gist en de suiker en laat 10 minuten rijzen. Kneed vervolgens met beide soorten bloem en de overige deegingrediënten, dek af en laat nog 30 minuten rijzen op een warme plek.
Voeg de citroen- en sinaasappelschil en de kruiden toe aan het gemarineerde fruit, meng alles met het brooddeeg en kneed goed door. Vorm van het kleverige deeg tentjes (ongeveer 3-4 cm dik, meestal rond of ovaal), leg ze op een met bakpapier beklede bakplaat en versier ze met noten en amandelen. Laat opnieuw rijzen gedurende 20 minuten.
Bak dan in een voorverwarmde oven op 170 °C gedurende ongeveer 40 minuten tot ze mooi bruin zijn. Bestrijk meerdere keren met honing of suiker. Haal voorzichtig van de bakplaat, laat afkoelen en versier met de kersen. Wikkel de tenten afzonderlijk in huishoudfolie en laat een week rusten (of langer indien mogelijk).
Selected accommodations in South Tyrol