Tiroolse ossenhaas
Tiroolse filet met pruimensaus, room, bruin brood, rode bes, jeneverbessen en Barolo.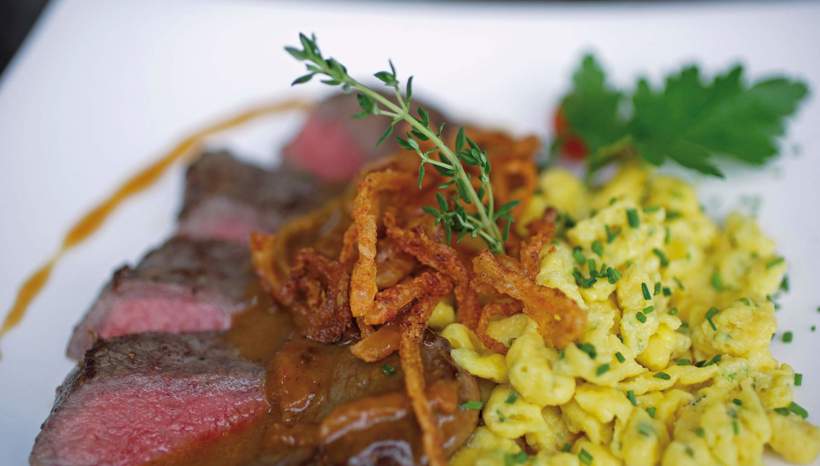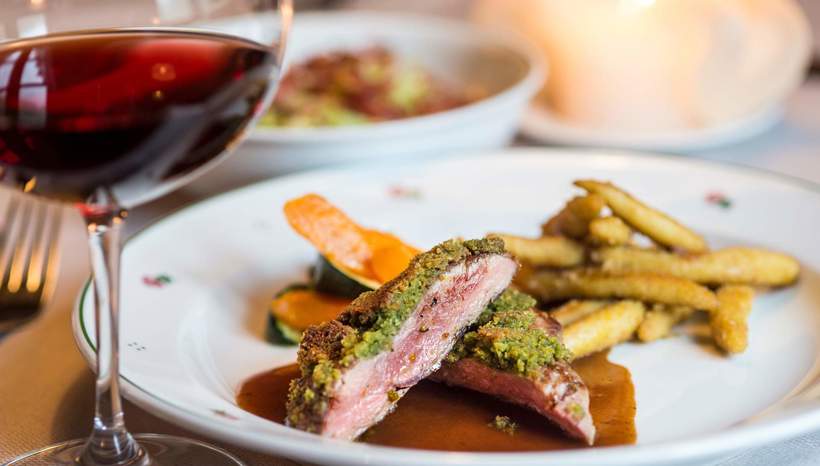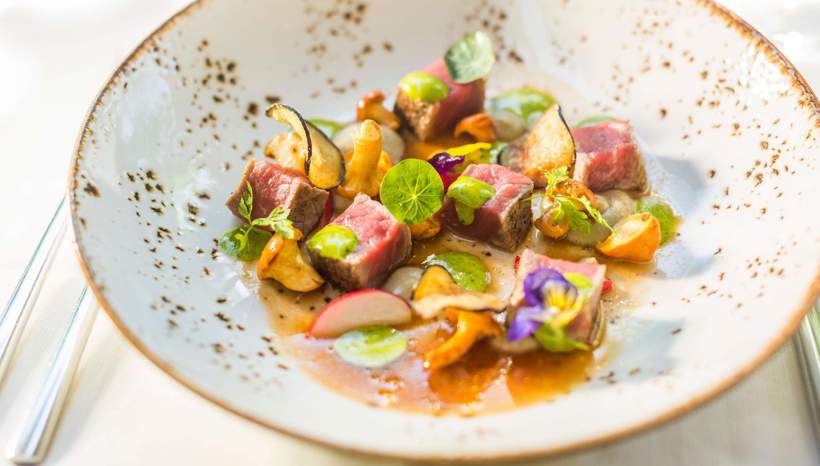 Een van de populairste gerechten in Zuid-Tirol is zeker vlees, omdat er in de directe omgeving optimale producten te vinden zijn. Hier presenteren we een gerecht dat zelfs de meest kieskeurige fijnproevers zal overtuigen.
Voor de bereiding van het gerecht is gekozen voor filet, zeker het meest malse en beste stuk rundvlees. Door het gebruik van zout wordt de smaak van het rundvlees buitengewoon versterkt.
Het resultaat is verrassend! Kijk zelf maar!
Recept:
Ingrediënten: (voor 4 personen)
600 g ossenhaas
250 cl verse room
250 cl rode wijn (Barolo)
50 g speklapje
Selderij, wortel, een ui
4 sneetjes bruin brood
enkele pruimen verwijderd
2 lepels jam van rode bessen
Peperkorrels
3 of 4 teentjes
wat knoflook
5 jeneverbessen
runderbouillon van runderbotten en olijfolie
Voorbereiding:
Snijd stukjes vel of vet van de filet en doe in een aparte bak. Snijd wat lardo in plakjes en leg dit op de filet. Voeg zout en peper toe en besprenkel met een beetje olijfolie.
Bereid het overige lardo in dunne plakjes in een ovenvaste schaal. Voeg aan deze bodem toe: geraspte wortel, selderij, knoflook en ui, grof gesneden pruimen, geplette jeneverbessen, peperkorrels en kruidnagels, jam van rode bessen en aan het eind het bruine brood om alles te bedekken.
Leg er vervolgens de vooraf gekruide rundvleesfilet op. Plaats de schotel in de oven op 200 °C. Voeg een glas rode wijn en een pollepel bouillon toe. Laat het geheel in de oven staan tot de filet de typische bruine kleur krijgt. Haal de filet dan uit de saus. Giet de saus in een pan, voeg de verse room toe en zorg ervoor dat niets aanbrandt.
Snijd de filet ten slotte in niet te dunne plakjes en leg ze op een serveerschotel. Voeg voor het opdienen de warme saus toe. De beste wijn hierbij is een Cabernet Lagrein.
Selected accommodations in South Tyrol