Vakantie in Algund
Verscholen tussen appelboomgaarden en wijngaarden, beschermd door de zuidkant van de Alpen en verwend door een mild klimaat: dat is het idyllische dorpje Algund. Dankzij de exclusieve ligging op een paar kilometer van het kuuroord Merano wordt alpine charme gecombineerd met mediterrane flair.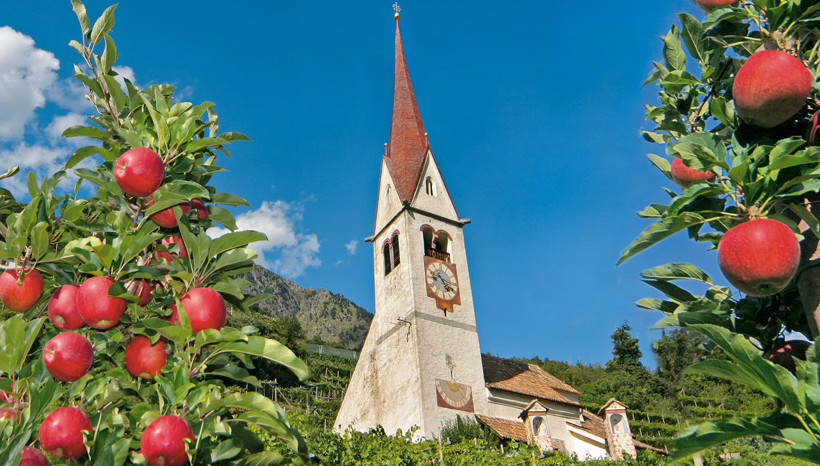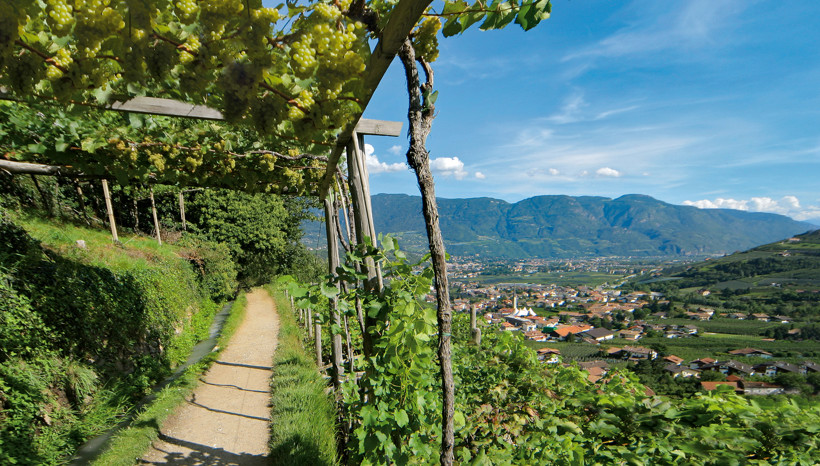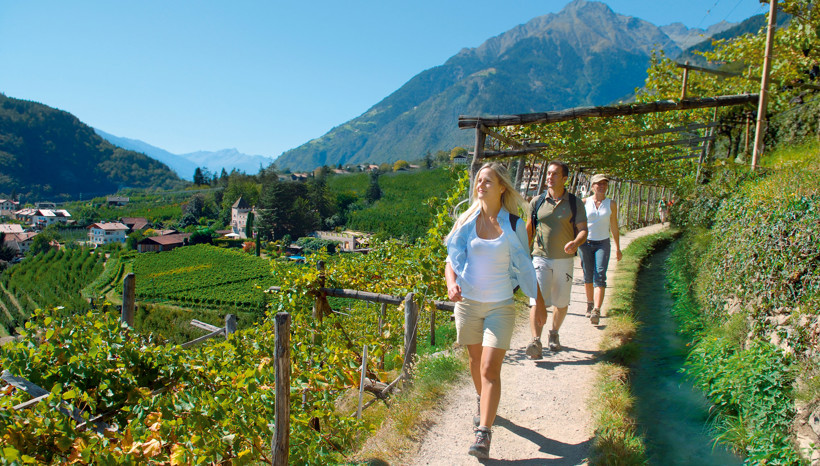 Met 300 dagen zon per jaar en de hoogste temperaturen in de omgeving wordt Algund terecht beschouwd als een vakantieparadijs. De lente begint hier al in maart met een kleurrijke bloemenzee in de boomgaarden en de warme zonnestralen nodigen uit om naar buiten te gaan. Goed ontwikkelde wandelpaden zorgen voor veel afwisseling op hoogtes tussen 300 en 3.000 m - van ontspannen wandelingen over zonnige Waalpaden tot uitdagende bergtochten in hoogalpien terrein.
Algund is niet alleen beroemd om zijn heerlijke appels en peren of zijn edele druiven, maar vooral om het gerstenat dat hier wordt geproduceerd. Want de oudste brouwerij van Zuid-Tirol staat in het district Forst, en Forst-bier is ook vandaag de dag nog het favoriete blondje van de Zuid-Tirolers. Tijdens een bezoek aan de brouwerij kunnen vakantiegangers meer te weten komen over het verfrissende drankje en misschien wel een of twee geheimen van de brouwkunst prijsgeven.
Stad of bergen? Algund biedt beide!
Dat is de bijzondere charme van Algund: hier valt niet alleen in het dorp zelf veel te ontdekken - zoals de moderne nieuwe parochiekerk, een gevierde architectonische attractie. Van hieruit zijn zowel de oude binnenstad van Merano met zijn pittoreske arcades en verfijnde Art Nouveau-gebouwen als de bergwereld op 1.500 meter boven zeeniveau in slechts een paar minuten te bereiken. De stoeltjeslift Vellau en de mandjeslift Leiter Alm brengen je naar de hoogten van het natuurpark Gruppo di Tessa, waar de mooiste bergmeren van Zuid-Tirol liggen. Dit is ook een ideaal startpunt voor de Meran Höhenweg, die met zijn 80 km een van de indrukwekkendste rondwandelingen in de Alpen is.
Mediterrane lichtheid ontmoet Alpine traditie
De mediterrane vegetatie met palmen, cipressen, vijgen-, kiwi- en amandelbomen zorgt voor een mediterrane flair en vormt een charmant contrast met de traditionele appelboomgaarden en wijngaarden die het landschap rond Algund kenmerken. Fruitteelt is de belangrijkste tak van de economie van Algund en wordt al generaties lang met trots verbouwd. De invloed van het zuiden is echter niet alleen duidelijk zichtbaar in het open landschap, maar ook op veel menukaarten. Naast rustieke delicatessen uit Zuid-Tirol in berghutten en wijnlokalen worden in herbergen en restaurants ook verfijnde gerechten uit de Italiaanse keuken geserveerd.