Vakantie in Postal
Postal ligt op slechts 270 m boven zeeniveau aan de oever van de rivier de Etsch, ten zuiden van Merano. Het dorp werd al in de 13e eeuw voor het eerst in documenten vermeld.
Postal ligt tussen een natuurreservaat en appelweiden en wordt van het nabijgelegen dorp Lana gescheiden door de rivier de Adige. De gunstige ligging ten opzichte van transport maakt het een ideaal startpunt voor excursies. De provinciehoofdstad Bolzano is in 15 minuten te bereiken en het kuuroord Merano ligt op slechts 10 minuten rijden met de auto.
De lange geschiedenis van Postal blijkt niet in de laatste plaats uit de overblijfselen van het gelijknamige kasteel, waaraan het dorp zijn naam te danken heeft. Het kasteel werd ooit gebouwd door graaf Volkmar von Postal. Vandaag de dag zijn alleen de resten van de ringmuur nog te zien.
Maar ook bezienswaardig zijn de biotoop Postal Auen, die is overgebleven na de drooglegging van de valleibodem, de Heilig Kruiskerk en het dierenmuseum, waar zeldzame dieren en meer dan 300 inheemse vogelsoorten te zien zijn.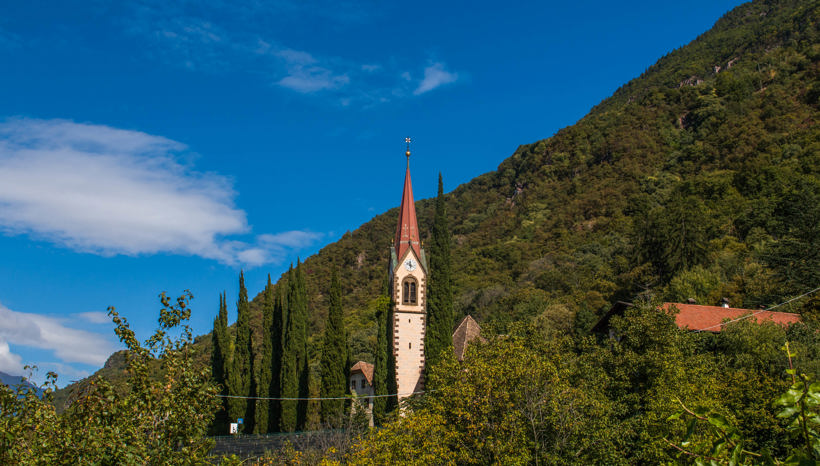 Paradijs voor fietsers en wandelaars
Het milde, mediterrane klimaat zorgt voor een lang wandel- en fietsseizoen. Vanuit Postal kun je prachtige wandelingen, fietstochten en wandelingen maken - door het Etschtal naar het Passeiertal of het Val Venosta.
De kabelbaan Burgstall-Vöran brengt je in slechts 5 minuten naar de Tschögglberg met het wandelgebied Merano 2000 en de Salten. Op de luchtige hoogten, tussen de schaarse lariksbossen, voelen wandelaars en mountainbikers zich vooral thuis in de hete zomermaanden.
Het gezinsvriendelijke Etschtal fietspad nodigt uit tot uitgebreide fietstochten. Fiets helemaal naar Bolzano, Merano of het zuiden van het land - je kunt ook de terugweg met de trein afleggen.
Je kunt iets aan je conditie doen op een ongeveer 4 km lang trimparcours dat door het bos rond Postal slingert.
Breng onvergetelijk mooie dagen door in Postal - het beste adres voor een natuurvakantie met het hele gezin!