Vakantie in Moso in Passiria
Moso in Passiria is een rustiek dorp in het achterste Passeiertal. Natuur en traditie zetten hier nog steeds de toon. In tegenstelling tot het voorste Passeiertal ten zuiden van St. Leonhard is het achterste Passeiertal dunner bevolkt en wordt het gekenmerkt door zijn hoogalpiene karakter en iets koelere klimaat.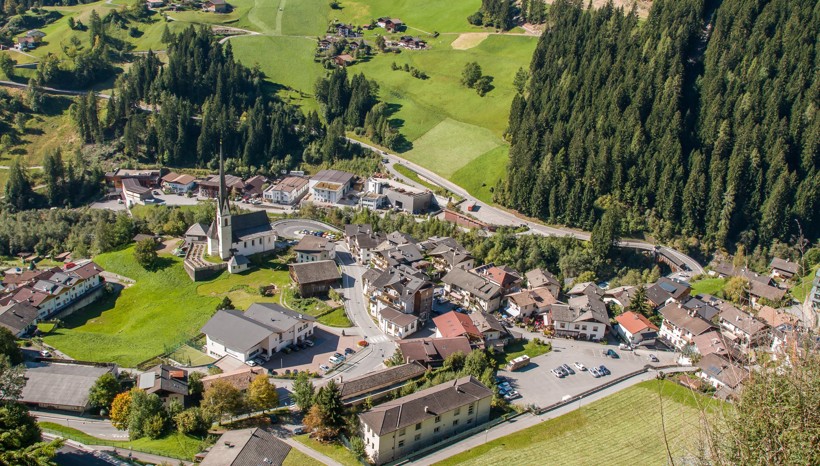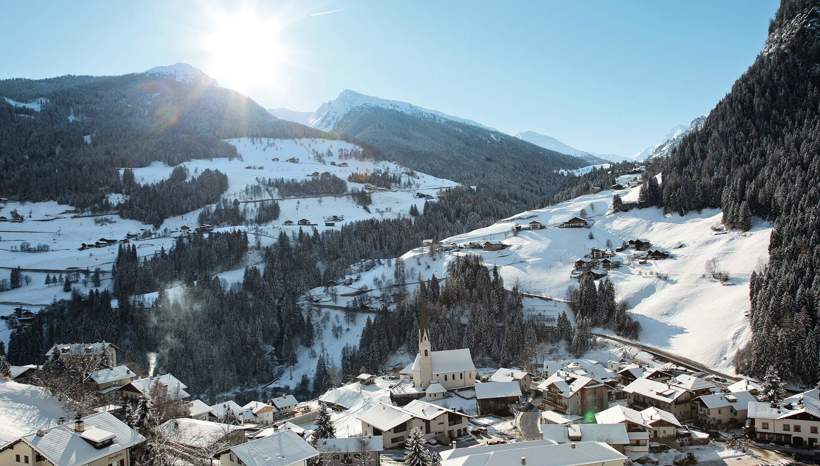 Het biedt daarom perfecte omstandigheden voor iedereen die graag wandelt of geniet van een zomerverblijf in de bergen. Het centrum van Moso in Passiria ligt op ongeveer 1.000 meter boven zeeniveau aan de weg naar het Timmelsjoch, dat het Passeiertal met het Ötztal verbindt.
Het gemeentelijke gebied met de gehuchten en wijken Platt, Plan, Stuls, Ulfas, Rabenstein, Hütt en Pil strekt zich uit van de dalbodem tot de 3.480 meter hoge top van de Hohe Wilden op de grens met Noord-Tirol. Grote delen van het dorpsgebied van Moos behoren tot het natuurpark Gruppo di Tessa.
Bezienswaardigheden in Moso in Passiria
Toch komen in Moso in Passiria niet alleen natuurliefhebbers aan hun trekken, maar ook cultuurliefhebbers. Bezienswaardig zijn bijvoorbeeld de laatgotische parochiekerk Maria Himmelfahrt uit de 15e eeuw en de bunker Mooseum. Het museum in de bunker biedt boeiende informatie over de natuur en geschiedenis van de Hinterpasseier.
De gletsjermolens in de Platt-fractie zijn ook een omweg waard. Deze getuigen van de laatste ijstijd kunnen worden bereikt via een aangenaam wandelpad. Een iets langere, maar zeer de moeite waard wandeling is nodig om het Schneeberg Mijnmuseum en het mijndorp St. Martin te bereiken.
Beleef de natuur in zomer en winter
In de omgeving van Moso in Passiria zijn er talloze mogelijkheden om te wandelen, bergbeklimmen en klimmen. Zo komen bijvoorbeeld de Meraner Höhenweg en de langeafstandswandelroute E5 hier langs. Andere aanbevolen paden slingeren door de Passerschluchtkloof naar St. Leonhard, naar de Ega, naar de Hochalm en naar het Stuller Hochwart of naar de Hohe Kreuzspitze. Een bezoek aan de Stieber waterval tussen Moos en Platt of aan de Stuller watervallen onder Stuls is ook een bijzondere ervaring.
In de winter lokt de besneeuwde wereld van het achterste Passeiertal met idyllische sneeuwschoen- en winterwandelingen. Daarnaast wacht er een klein maar uitstekend skigebied op je in Plan. En niet te vergeten de ijstoren van Rabenstein, een van de grootste kunstmatige ijsklimfaciliteiten in Europa, waar regelmatig internationale ijsklimwedstrijden worden gehouden.
Localities in Passeiertal
Selected accommodations in Moos in Passeier