Rodelplezier in Zuid-Tirol
In zijn besneeuwde berglandschap biedt Zuid-Tirol een bonte verscheidenheid aan geweldige rodelbanen - van lang tot kort, van snel tot rustig. Romantici komen aan hun trekken met rodelen bij maanlicht. Rustzoekers zullen genieten van de natuurlijke rodelbanen, die ver weg liggen van de pistes en kabelbanen, en gezinnen zullen genieten van de licht stijgende rodelbanen.
Rodelen heeft een bijzonder lange traditie in het Eisacktal, het Pustertal en het Aurina/Tauferer Ahrntal. Het aanbod aan rodelbanen is er navenant groot. Maar ook in andere regio's van Zuid-Tirol zijn er mogelijkheden voor rodelaars. Sommige rodelbanen zijn zelfs op bepaalde dagen 's avonds verlicht en de hutten zijn open voor rodelen bij maanlicht.
Voor sommigen is rodelen maar half zo leuk zonder de klim te voet, terwijl anderen de voorkeur geven aan rodelbanen in skigebieden waar je gemakkelijk de kabelbaan naar het begin van de rodelbaan kunt nemen. Rodels zijn vaak tegen betaling te huur bij het dalstation, in een berghut of in een sportwinkel in het dorp.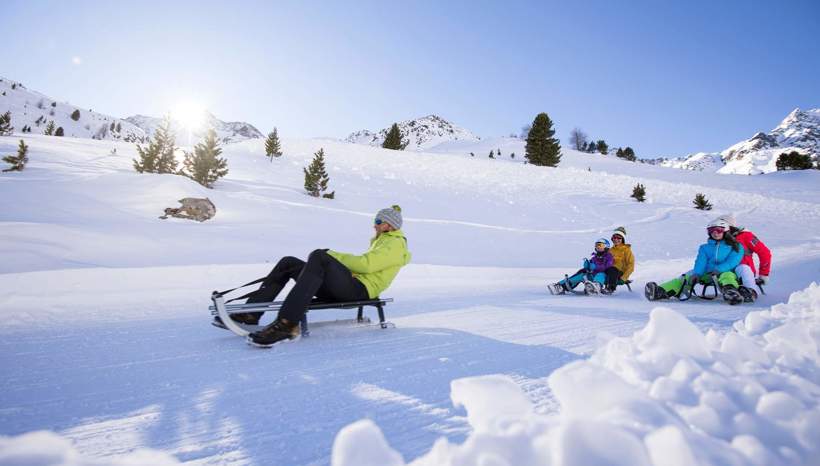 Gezinsvriendelijke rodelbanen
Een rodelexcursie is een bijzonder goede ervaring voor het hele gezin. Klim samen omhoog over besneeuwde paden, speel raadspelletjes om te zien wiens sporen in de sneeuw te vinden zijn en ontspan daarna in een gezellige, warme berghut. De kleintjes kunnen op de rodelbaan worden getrokken - de groteren doen het graag zelf.
De rodelbaan voor een gezinsuitstapje moet altijdkort, relatief vlak en goed beveiligd zijn. Dergelijke banen vind je in alle regio's van Zuid-Tirol, sommige met rodelverhuur en liften om je omhoog te helpen. Bijvoorbeeld:
Dolomieten: op de Haunold in Innichen, in Obereggen (Epircher-Laner Alm) en in Nova Levante.
Eisacktal: in het Villnössdal bij de Gampenalm, in het achterste Ridnauntal bij de Stadlalm en Waldeben in het Val di Giovo.
Kronplatz: op de Lercher Alm in Oberwielenbach, op de Moarhof Alm in Hofern en op de Pertinger Alm in Terento
Merano en omgeving: rodelbaan Lazaun in Kurzras in Val Senales en de gezinsrodelbaan Plan
Tauferer Ahrntal: in Riobianco en in Lutago op de Schwarzbachalm
Val Venosta: bij het bergstation Watles en in Reschen bij Vallierteck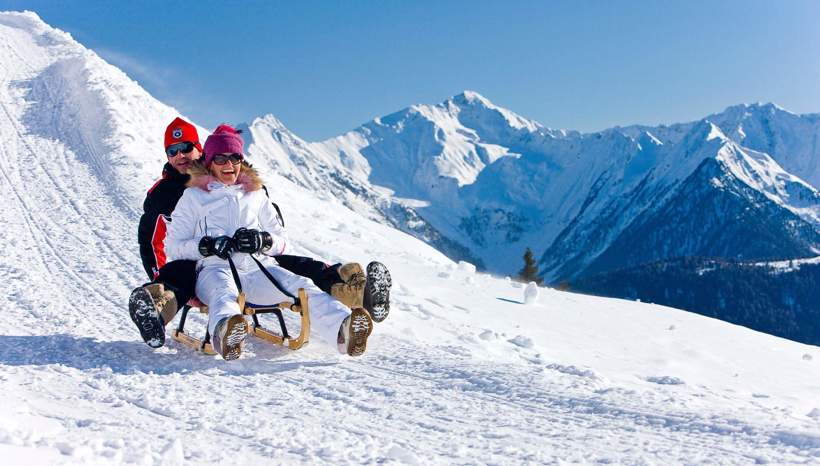 Langste rodelbanen van Zuid-Tirol
Gezinnen met kinderen beleven ook veel plezier op de korte rodelbanen. Wie daarentegen niet genoeg kan krijgen van rodelen, moet de langste rodelbanen van Zuid-Tirol uitproberen:
Op de Monte Cavallo in Vipiteno.
In het skigebied Plose bij Brixen (pas in december 2023 weer open vanwege de bouw van de nieuwe kabelbaan)
Op Speikboden bij Sand in Taufers
Alle drie zijn bereikbaar met de kabelbaan en bieden 9 tot 10 km aan spannende afdalingen.
Veiligheidstips voor rodelaars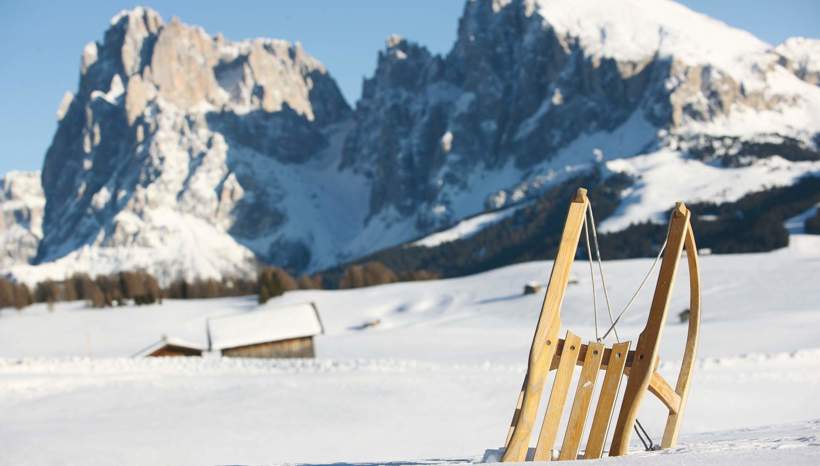 Rodelen is een wintersport die geschikt is voor alle leeftijden en nog steeds erg populair is. Een paar eenvoudige regels moeten in acht worden genomen om ervoor te zorgen dat elke rodelpartij leuk en veilig blijft. Wees vooral voorzichtig als je 's nachts, bij slecht zicht of op ijzige delen van de rodelbaan gaat rodelen.
Rekening houden met elkaar: op veel rodelbanen vinden de klim en de afdaling plaats op dezelfde route, die ook wordt gebruikt door winterwandelaars en skitoerers.
Stijging aan de rechterkant: Om botsingen te voorkomen, stijg je aan de rechterkant van de baan en achter elkaar op.
Stoppen en oversteken: alleen op vrije plaatsen! Ga pas verder met rodelen/lopen nadat je omhoog en omlaag hebt gekeken. Bij een val de baan zo snel mogelijk vrijmaken.
Houd de slee onder controle: houd voldoende afstand, wees altijd klaar om te remmen, pas je snelheid en rijstijl aan aan het weer, de omstandigheden en de werking van de baan. Rodel niet als je reactievermogen verminderd is (bijvoorbeeld na glühwein in de hut).
Geschikte uitrusting: Naast warme kleding en stevige schoenen wordt een beschermende helm (skihelm, geen fietshelm) sterk aanbevolen, vooral voor kinderen. De slee moet van goede kwaliteit zijn, plastic bobs zijn niet geschikt voor rodelbanen.
Actuele informatie over de rodelbaan: Informeer van tevoren naar het verloop en de staat van de rodelbaan en controleer of de baan open is om te rodelen.
Daal nooit af op skipistes: Rodelaars hebben niets te zoeken op skipistes! Het risico op botsingen met skiërs is te groot en veel hellingen zijn te steil om te rodelen.
Rodelen met kinderen: Laat kinderen alleen rodelen als ze de slee goed kunnen besturen, d.w.z. remmen en sturen. Dit geldt ook voor oudere rodelaars zonder ervaring.
Selected accommodations in South Tyrol