Wandelen met hond in Zuid-Tirol
Brengt u uw zomer- of wintervakantie samen met uw trouwe viervoeter door in Zuid-Tirol, dan raden wij u hondvriendelijke excursies aan die leuk zijn voor iedereen.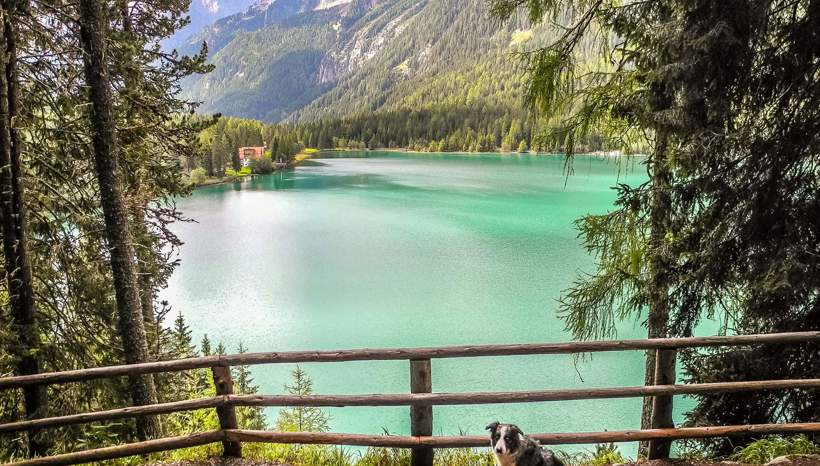 Voor een zomer- en wandelvakantie in gezelschap van een trouwe viervoeter is het Tauferer Ahrntal bijzonder geschikt. Bijna geen enkele andere vakantieregio in Zuid-Tirol biedt zoveel ruimte en zoveel verfrissend water voor je hond. Voor baasjes en bazinnetjes is het voordeel duidelijk: de ontelbare ruisende bergbeekjes en turquoise bergmeren maken immers een einde aan het vermoeiende gesjouw met water tijdens het wandelen.
Winterwandelen met Bello
Als de eerste sneeuw valt, houden honden er ook van om te ravotten in het winterlandschap, achter sneeuwballen aan te rennen en te spelen in de diepe sneeuw. Als je je trouwe viervoeter mee wilt nemen op een winterwandeling, moet je met een paar dingen rekening houden.
Honden zinken bijvoorbeeld van nature weg in de sneeuw en raken sneller vermoeid, en er vormen zich vaak ijsklonten op hun poten, wat ongemakkelijk of zelfs pijnlijk kan zijn tijdens het wandelen. Je kunt de poten insmeren met hertenvet of vaseline, maar honden bijten vaak zelf het ijs eraf. Na een wandeling moet je de hond niet in een koude ruimte achterlaten, maar hem ook de gelegenheid geven om zich in de warmte af te drogen.
Winterwandeltip voor jou en je trouwe viervoeter
Naar het Heimkehrerkreuz in het natuurpark Fanes-Senes-Braies
Routebeschrijving: Door het Pustertal in de richting van Braies naar de herberg "Brückele" in het Altprags-dal en omhoog naar de grote parkeerplaats bij Prato Piazza.
Tourbeschrijving: Vanaf de parkeerplaats naar de Dürrenstein-hut, waar de klim naar het Heimkehrerkreuz of Strudelkopf begint (markering 34).
Reisgegevens: Wandeltijd in totaal ca. 3 uur, 300 m hoogteverschil, verfrissingen verkrijgbaar bij de Dürrensteinhütte en de Prato Piazza.
Selected accommodations in South Tyrol